Are you ready to create your INSPIRED + JOYFUL + CREATIVE life and business?
Are you ready to learn, grow, and thrive?!
Well, it's time to EMBRACE yourself.
It's time to OWN + TRUST + USE your talents to create the INSPIRED + JOYFUL + FULFILLING life and business you crave for.
It's time to feel CONFIDENT each day because you UNSTOPPABLE + CURIOUS + BIGHEARTED soul have everything you need to achieve the self-made success you yearn as a fashion illustrator, textile pattern designer, and (or) fashion designer.
You are ENOUGH + you are TALENTED + you are CAPABLE.
Every day I'll help you smash your fears, grow your skills, experiment amusingly, discover the authentic style within you, own what makes you you, and work towards building the MEANINGFUL + HAPPY life and business you truly want.
My promise to you is this:
You won't be alone on this journey; I'll be with you to encourage you, guide you, and support you along the way – step-by-step.
Sounds good?
Great! Now let me introduce myself, I'm Karen Avila, a fashion artist and creative mentor. And I'm on a mission to help self-made fashion designers, fashion illustrators, and textile pattern designers (aka fashion artists, and aspiring to be) to EMBRACE + TRUST + USE their talents to create the INSPIRED + JOYFUL + CREATIVE life and business they dream of.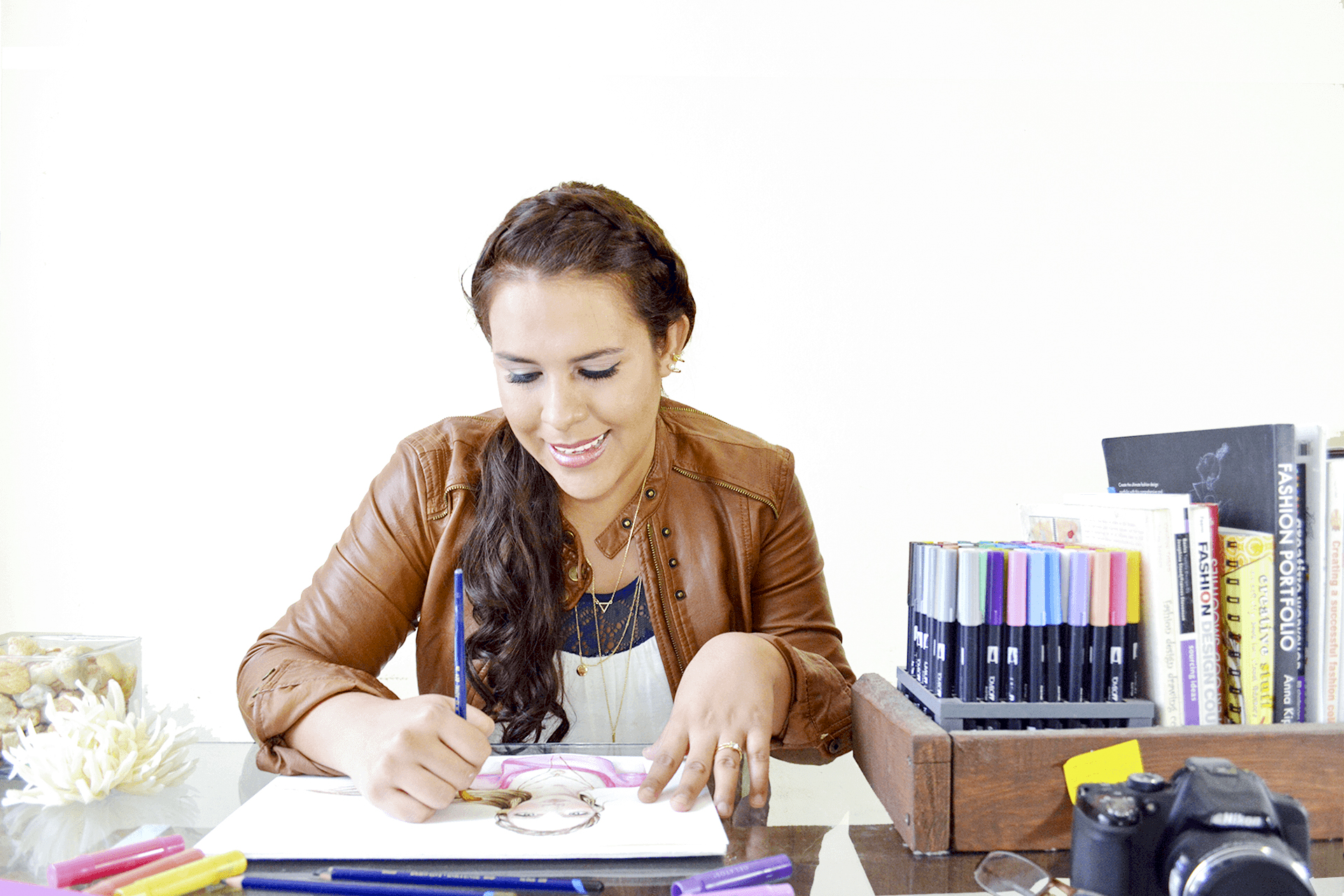 I'm currently based in a lovely tiny town in Mexico, where I live with the love of my life Allan and our two adorable dogs, Terry and puppy Ike. I have a degree in industrial design, but way before graduating I discovered my heart belonged to creating and teaching fashion.
When I'm not working with my unstoppable students, creating helpful courses and resources for them (and you!), or working as a freelancer for my amazing worldwide clients, you can find me pouring my heart into one of my personal creative projects, spending time with my family, or planning our next trip to the beach 😀
This is what I believe in
1 | Learning Everyday
Learning is a lifetime duty. The time you stop learning, you stop living. There are so MANY things to learn, about the fashion industry, about building a business, about creating from the heart and to delight, and more than anything about yourself and about creating a life you are happy and proud of living.
Every day holds a lesson (or more) for you to harness and take to heart.
2 | Creating from a Place of Love + Experimentation
Your most gorgeous, fantastic, impactful, and meaningful work ALWAYS comes from love and experimentation.
Exploring can take you to unforeseeable places, awing ideas, and unexpected but wondrous results. Creating with love builds a connection between you and your work, and between your creations and the people experiencing them – and connection is key when you want people to fall in love with your work.
3 | Discovering Your Authentic Style
Your authentic style is what makes you different, is what sets you apart and makes you stand out in this industry. Your authentic style makes your work IRRESISTIBLE, and YOU make your style AUTHENTIC.
4 | Embracing Your Talents and Owning Yourself + Your Story
You are talented and unique in your own way. Your journey and every single one of your stories matter. And you deserve love + respect + appreciation to yourself and your work, from yourself and the world 🙂
5 | Finding the Life and the Business of your Dreams within You
You have the gifts, the strengths, and the power you need to build the fulfilling + joyful business that will help you to create the inspired + meaningful life of your dreams. Your job is to embrace + trust + use them to make that happen.
6 | Growing Personally is Evolving Creatively
I believe your personal life is deeply connected to your most authentic + impactful + beautiful work (actually, to all the things you create). When you grow personally, it is reflected in your work, your ideas, your style, and your process. Nothing is static, you grow in your life in many aspects, and with that, you can let yourself evolve creatively by embracing change in your life and your work.
If you're a fashion artist or aspiring to be, whether you love fashion design, fashion illustration, or textile pattern design (or all of that!) I'll help you:
…grow your skills to build the creative life and fashion business you ache. Meaningful and useful skills that tap into your talents and heart.
…experiment amusingly to astonish you, discover what you're capable of, and enrich your creative work with love + curiosity.
…discover your authentic style to create irresistible + compelling + powerful work that people (and you) LOVE. Diving deep into yourself and pouring your heart into what you create.
…own yourself + embrace your talents because you're already unique and super awesome.
…use your gifts + strengths to come up with your best ideas: meaningful + impactful + connective + authentic + joyful (or whatever you want them to be).
…dump your fears and move past the mindsets that have been holding you back, because you owe it to yourself.
Sounds like something you want or need?
My Journey to Choosing Fashion + Embracing my Talents + Teaching What I Know
My story started way before picking a career, but my passion for fashion got stronger than ever and something I couldn't get out of my head during my first year in college. I was studying industrial design, learning production processes, working with all kinds of machinery (for wood, plastic, and metal), and by all means trying to connect my school projects with fashion – sometimes it was easier, others it was impossible.
On the side, I was absorbing everything I could about fashion design and illustration. All my free time was devoted to reading every single book about fashion in my university's library; I always purchased a book or a course whenever I could afford it, and I was learning and implementing everything as I learned it. It was like I was studying two careers at the same time – something super awesome, but when I couldn't focus my time on fashion, I felt drained, frustrated, and desperate to make my escape and turn my fashion ideas into reality.
To alleviate the wait I started creating my own handbags and accessories, and soon my friends and their friends started asking for them – there my first fashion business began. It was SO-WONDERFUL + SURREAL people were loving what I was creating, and they were paying me to do something I loved!
Two years past and I decided to fund my little handbag business by doing some freelance work, so I put together a small portfolio, prayed the universe, and applied to every single freelance project I found. Within the first month, I got my first project, and everything changed.
Wait, what?!
Yes, before graduating (industrial design) I started working as a fashion designer! Before that moment, during that time, and after that project lots of other tiny + long + happy + life-changing stories happened that have molded myself and my fashion journey – which of course I'll convey (ALL of them) to you.
And the first I want to share is one that has changed me deeply and shaped my path to bring me here.
Well, with that incredible opportunity of starting working as a freelance fashion designer, lots of fears and doubts began to creep out. I couldn't believe I was working in fashion without a fashion degree, without experience, without connections, without nothing but my passion + love + dedication to learning and creating with my heart.
I couldn't believe what my parents, boyfriend (now husband :P), friends, and even clients were telling me about my work. All the people around me have believed in me forever. But, I felt something was missing, I didn't know what it was, but I just felt I wasn't good enough – and I avoided (by all means) to create illustrations and designs other than client work.
The doubt and the silly belief that being talented and good enough would come from a piece of paper or a title blinded me during my first years working in fashion. That worry + fear + self-doubt took from me all the joy and fulfillment I was supposed to experience for working and doing something I wanted with all my soul.
Until one day, I just grabbed my materials and started creating what I wanted. I let myself free, and I promised to be non-critical about anything while I was creating a portrait – something I never did in my whole life. The result was astonishing to me. And the experience was super clarifying: I didn't need any outside permission or approval to embracing my gifts, I just needed my own love and recognition.
I changed my life by dreaming big + seizing the opportunities + doing the work.
And then, I changed it again by owning who I am and my journey + embracing my gifts + trusting myself.
That's why I'm here with you encouraging you to embrace your own gifts and talents, so you feel powerful + talented + confident. And eager to help you create that life and that business that have been in your heart + mind + soul for so long.
So, are you ready to embrace your talents and thrive?!
This is how I encourage and help fashion artists embrace + trust + use their talents to build the creative life and business they want…